Nowadays, safety and security is becoming more and more important in property and asset management. Therefore, keeping history of your visitors is critical to ensure the safety of your property and assets . In the case that damages occurs, evidence is legally required for the law enforcenent process. As a result, our company have developed our Visitor Management System to solve all those problems.
Portable Visitor Management System
Photo ID chip reader
User friendly portable device
Real time data storage and access
Built in receipt printer
QR code system
Checking the number of visitor
Supporting Voice to text information input
Built in camera
Parking fee system
Visitor data checking
Cloud based Visitor management system that allows you to access realtime
Mobile Application specifically built for Just-ID Visitor System
All data can be exported to Excel and PDF
Membership system
Cloud based data storage
Mobile application with multi function that can accomodate all functions
Free application update. Our team is continuously developing the application to ensure the best user experience.
Our dedicated support team will be available to assist all of our customers on their journey.
24/7 support team
All of our devices come with built in GPS so the devices are trackable in case of loss or theft.
Increase your security level with Just-iD Visitor System
Support Thai and English version
User friendly
Precision ,Quick ,User Friendly ,Secured
Visitor management system
Event pre register system
Visitor information tracking system
Automated Parking fee system
Just-iD identity card service
Covid 19 measurements control
Portable Visitor Management System
Before using the system, User can modify system set up on https://app.just-id.com user can modify, Organization name, logo, receipt footage, type of visitor, limit the number of visitor and other fields. Modification can be done from any device that has access to the internet. We have our dedicated support team to help you set up.
Once you login to the device, there will be preset functions ready to use. Check in, register, swipe or insert chip card, fill in the information by typing or using google voice service. After that, you can print the reciept or QR code and all the data will be put on to the encrypted cloud system. On exit, check out, scan QR code, take photo, fill in additional info, then check out.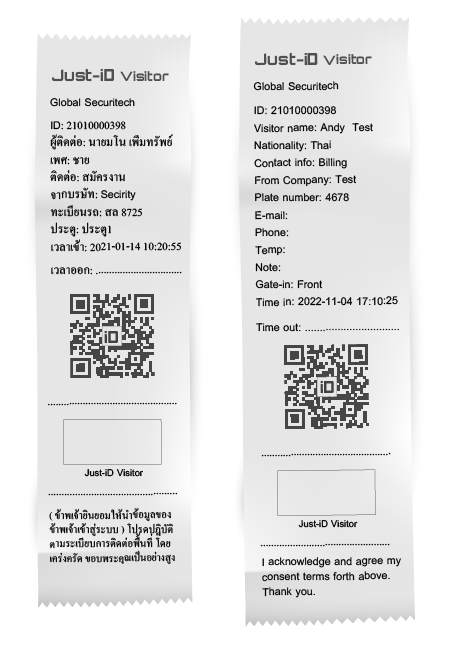 Provide complete and accurate information and setting your options for specific use.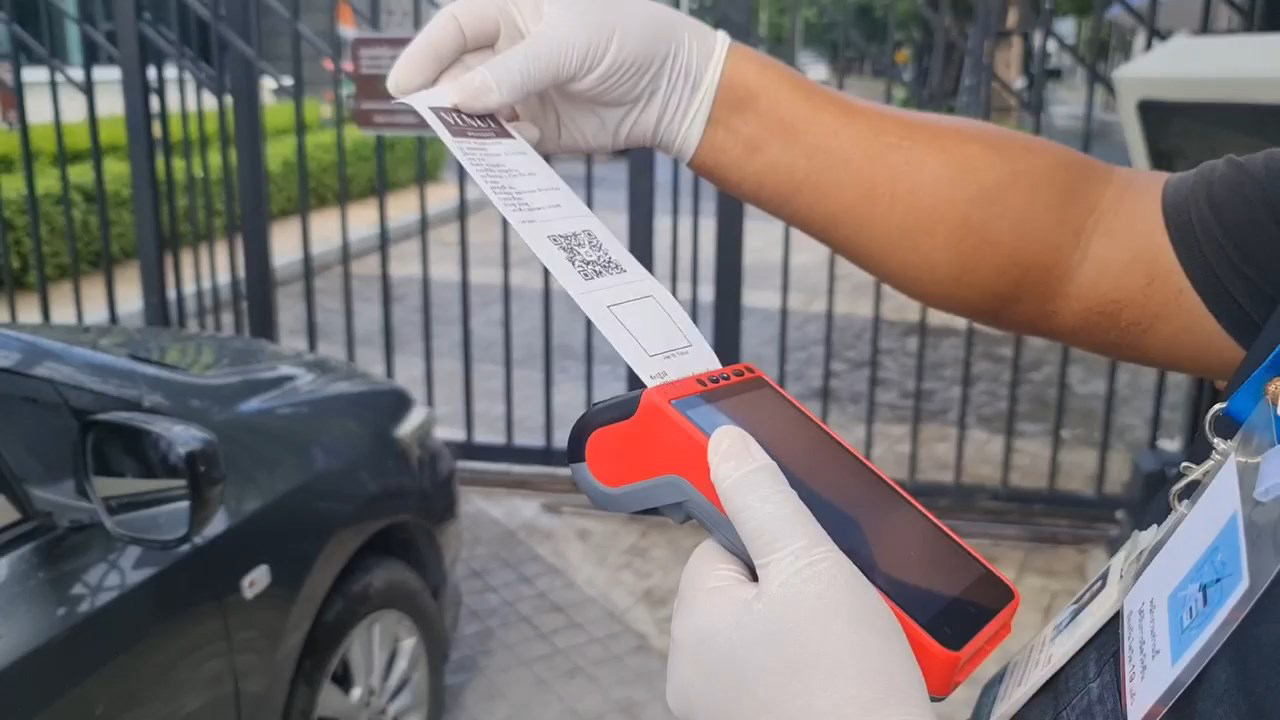 The system will show the number of visitors who have accessed to the designated area, both in and out. Also the outstanding and visitor information of those who didn't check out or have stayed over 24 hrs. All the information can be exported into PDF,Excel.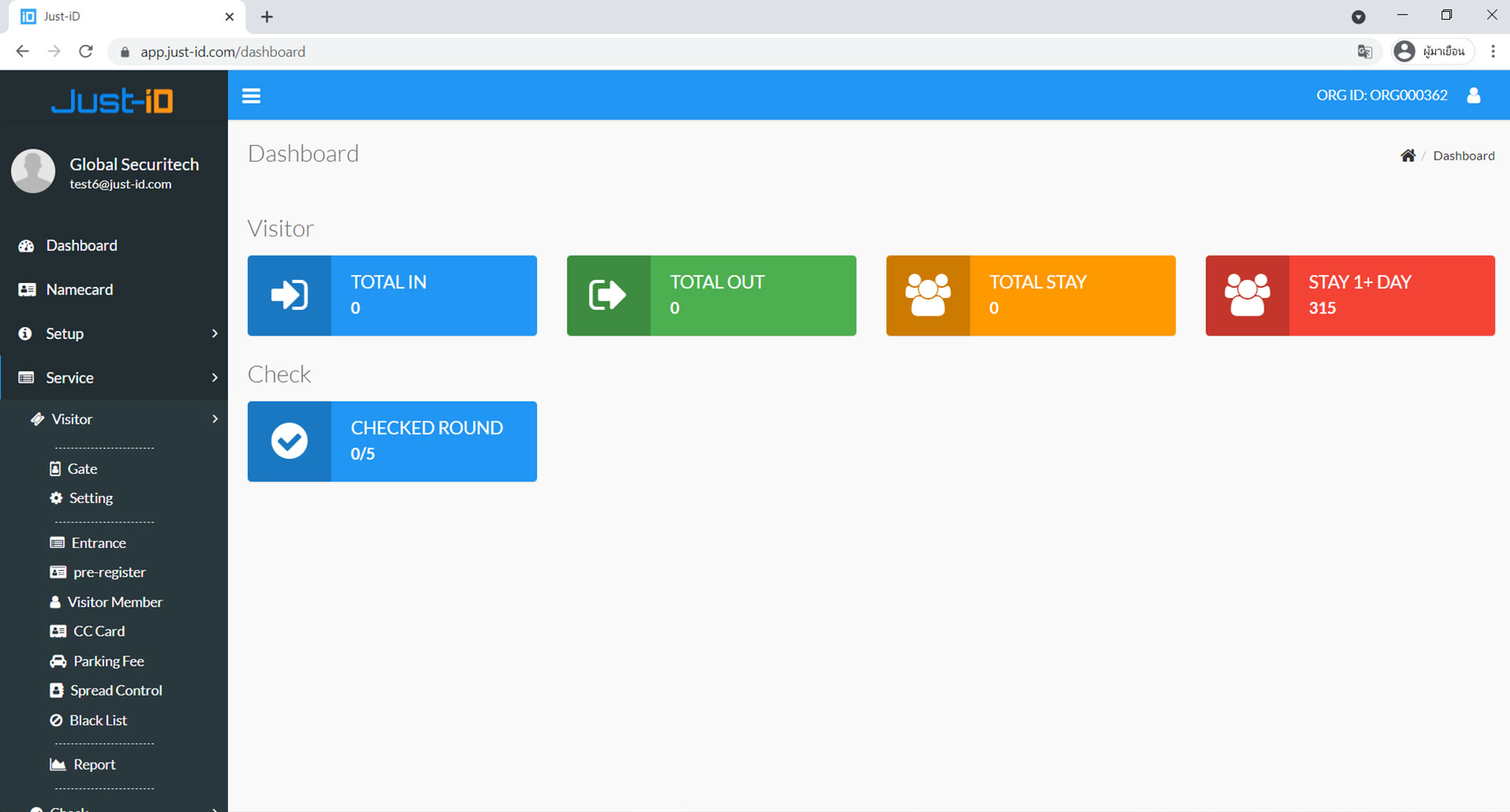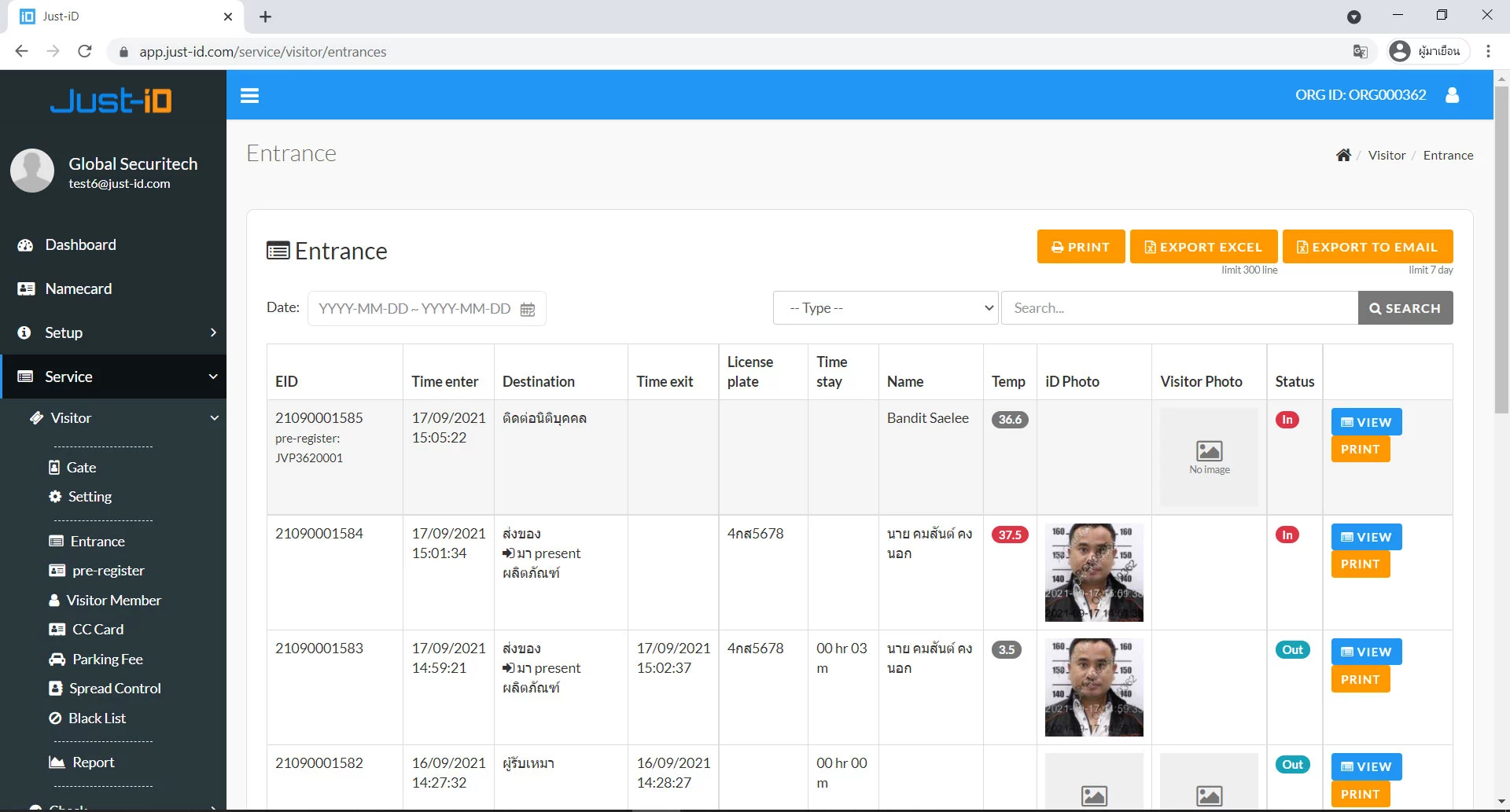 What you will get when you purchase
Just-

iD

Visitor :
| | |
| --- | --- |
| List | Price |
| Just-iD Visitor Device | 1 unit |
| Just-iD Visitor System | 1 system |
| Just-iD Cloud System | 7 Gb. |
| Sim card | 1 year |
| Necklace | 1 line |
| Thermal paper | 10 rolls |
| Warranty | 1 year |
| On Site service (Grater Bangkok)) | 2 times |
| After sales service | 24 hours a day |
Warranty Terms and Conditions
1 year warranty
After warranty has expired, we provide free substitute device during device repair (with fee) subtitude device during device repairation (with fee)
Just-iD cloud server rental fee 1000 thb/year
The purchases will be delivered after 3-14 days (No delivery fee + Free On-site set up support)
Terms and Conditions of warranty exclusion
If the fault was caused, directly or indirectly, by user misuse, breakage or liquid spoilage
Our team will assist you with repairs and spare parts (with fee)
Just-

iD
products for business

Residences, condominiums and villages
Access card and visitor information system

Security services organizations
We provide the device rental service to increase competitive edge of your organisation.

Factory
Access card and visitor information system

Hotels & Resorts
Keeping the record of guests and also additional information such as guest preferences and blacklist

Company and office spaces
Access card system, visitor
and employees information system.

Event management
Keeping the record of event attendees – numbers and other information


Other
Just-iD Visitor is for keeping the record of visitor